03 Jun

The Edmonton Journal Interviews Tracey Bell

Corporate Entertainer Tracey Bell Comes Home
Tracey Bell spoke with Liz Nicholls of The Edmonton Journal this week for an interview. Their conversation covers her history as an award-winning corporate entertainer and her upcoming show at the 2016 Edmonton Pride Festival.
The interview was especially memorable for Tracey Bell. An Edmonton native, she got her start there as a corporate entertainer, doing celebrity impersonations and live costume changes as Cher, Madonna, Janis Joplin, and Tina Turner, to name a few.
For Tracey Bell, an amusing aspect to speaking to The Edmonton Journal about her earliest days doing celebrity impersonations is that she used to work for the newspaper in the circulation department.
Now based in Vancouver, award-winning corporate entertainer Tracey Bell performs around the world at corporate events. Besides performing as the original group of Cher, Madonna, Janis Joplin and Tina Turner, she also does interactive celebrity impersonations of Marilyn Monroe, Liza Minnelli, Celine Dion, Julie Andrews, and Judy Garland.
Tracey Bell is excited about returning to Edmonton to perform at the 2016 Edmonton Pride Festival. Her show will include samples from her one-woman show, "8 Divas in 44 Minutes", which includes interactive impersonations of classic celebrity divas and live costume changes.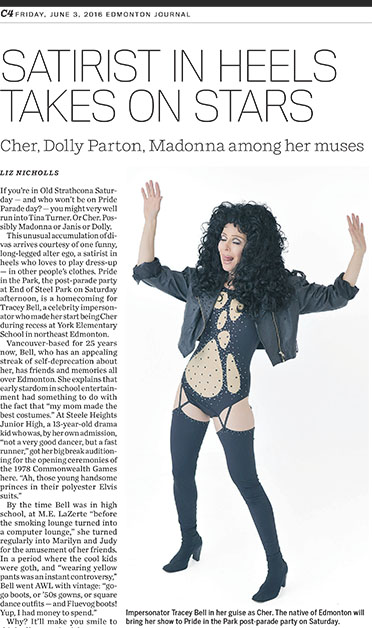 Here's a preview of the interview:
This unusual accumulation of divas arrives courtesy of one funny, long-legged alter ego, a satirist in heels who loves to play dress-up — in other people's clothes. Pride in the Park, the post-parade party at End of Steel Park on Saturday afternoon, is a homecoming for Tracey Bell, a celebrity impersonator who made her start being Cher during recess at York Elementary School in northeast Edmonton.  
Tracey Bell would like to thank Liz Nicholls and The Edmonton Journal for taking the time to interview her.