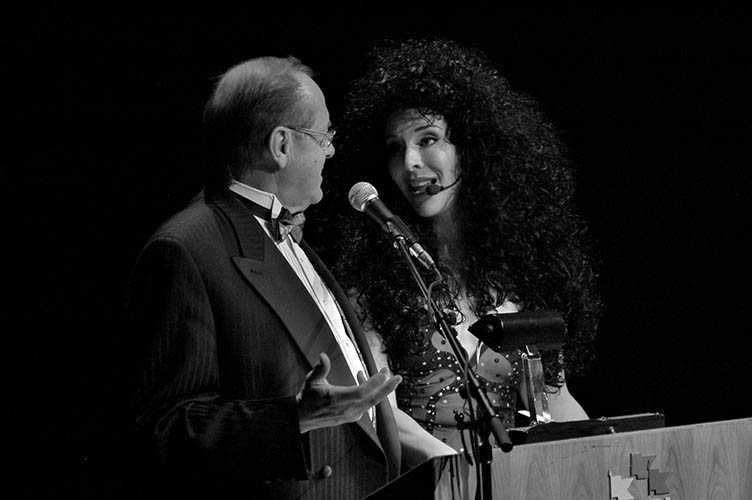 01 Sep

Hosting Corporate Events and Awards Ceremonies

As Master of Ceremonies, Tracey Bell has introduced dignitaries, award winners and celebrities. Tracey made 15 costume changes while hosting the Microsoft Impact Awards.  At The Power Within, she worked with Hilary Swank, Arianna Huffington and UK First Lady Cherie Booth Blair. Tracey was the hit of the evening hosting the Women In Film & Television Vancouver Spotlight Awards. She performed in cities across Canada on the televised Consumer Choice Awards and was honoured to host both The Canadian Event Industry Awards and the BC Event Industry Awards.
Tracey Bell changes in seconds during her performances and also during speeches and video presentations.
Here is a sample of one of Tracey Bell's hosting schedules:
7:00pm – Celine Dion opens the awards show with a comedic monologue customized for your audience, then performs a powerful medley of "My Heart Will Go On" from the film Titanic and Cher's hit song "Believe" where she becomes Cher in seconds without leaving the stage.
7:05pm – Cher makes some remarks, then introduces the first presenter or award(s).
7:15pm – Marilyn Monroe introduces your President's speech.
7: 25pm – Tina Turner enters, performing "Simply the Best", dedicated to the award winners.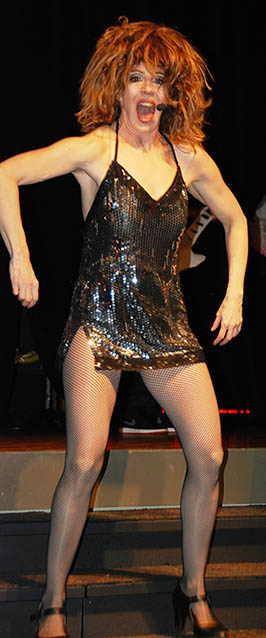 7:30pm – Tina Turner introduces the next award(s).
7:45pm – As Maria Von Trap from The Sound of Music, Julie Andrews comes on stage to make housekeeping remarks and introduce the next award presenter.
7:55pm – Dolly Parton enters from the back of the room, performing 9 to 5 as a follow spotlight highlights her audience interaction.
8:00pm – Dolly Parton performs a comedy monologue and introduces the next award(s)
8:10pm – Janis Joplin gets the audience clapping and singing along to "Mercedes Benz" while bringing guests onstage to be rock stars on guitars, performing to the classic rock song, "Piece of My Heart".
8:20pm – Janis Joplin introduces the video montage
8:25pm – Madonna performs the song "Vogue" with some of the evening's award winners dancing along, then introduces the final award.
8:35pm – Liza Minnelli thanks everyone for attending and gets them all to stand and do a kick line as she performs "New York, New York".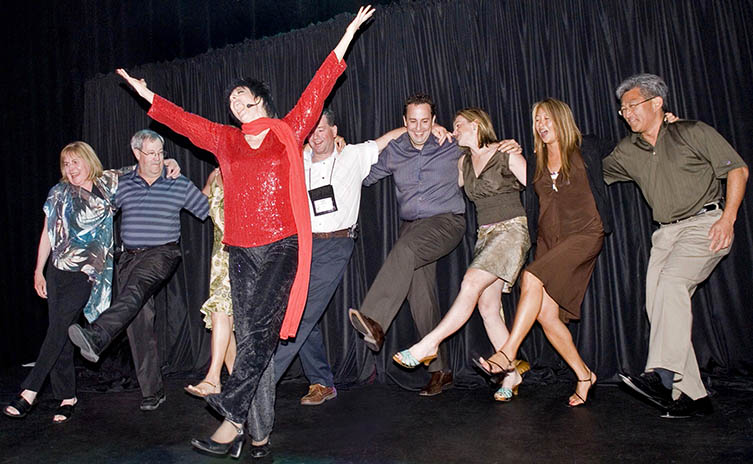 As an Awards Host, Tracey Bell keeps things on track and ensures a continuous flow on stage, improvising and troubleshooting when necessary. She can be comedic or serious, hosting as her characters and as herself.
Tracey Bell works with Event Planners to create customized scripts for associations and corporations, based on the details of their awards ceremonies.
As Emcee, Tracey Bell is guaranteed to liven up your awards event, keeping people entertained and making the evening more memorable. After all, she's impersonating amazing women who have won a multitude of awards for music, film, television and philanthropy throughout eight decades.