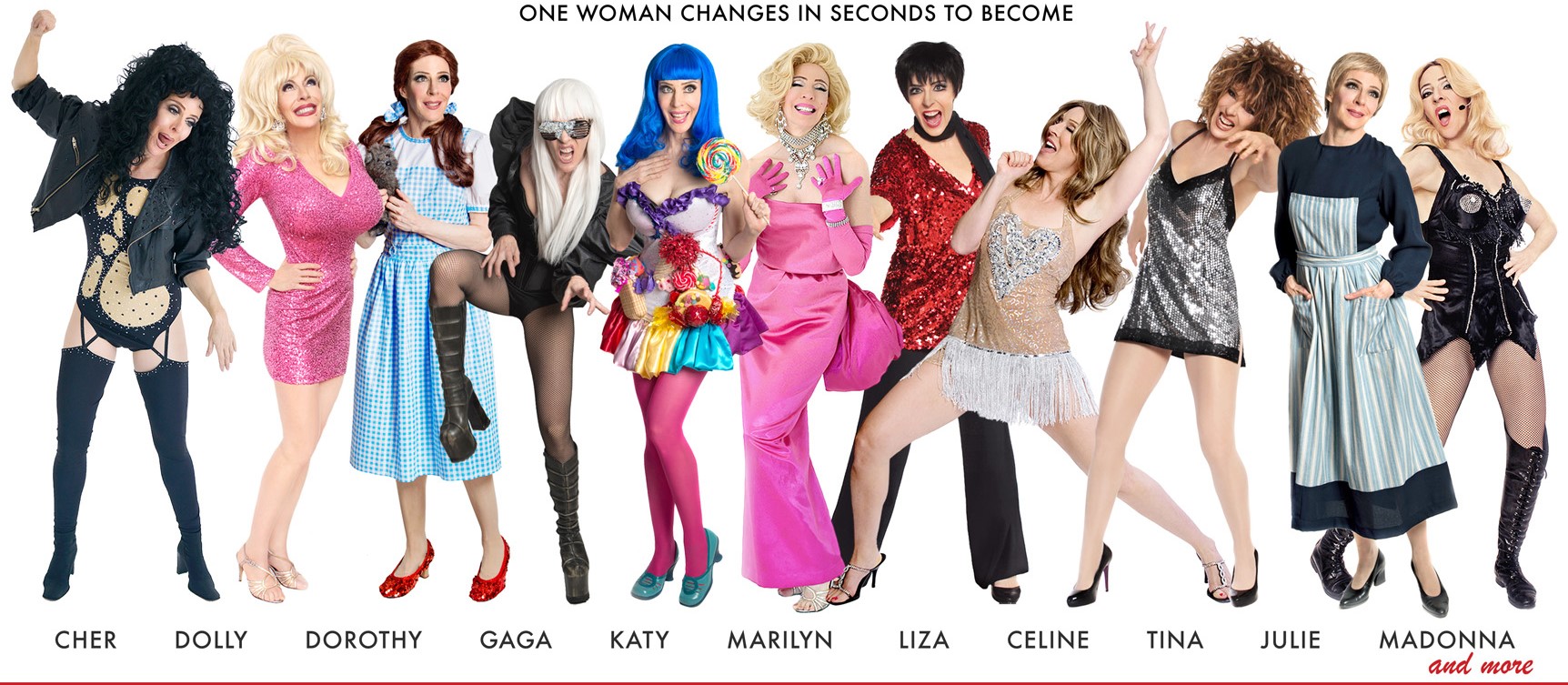 30 Aug

How I Change in Seconds To Become A Dozen Divas

The promotional image shows me impersonating Cher, Katy Perry, Celine Dion, Marilyn Monroe and eight other celebrities. The caption above says, "ONE WOMAN CHANGES IN SECONDS TO BECOME A DOZEN DIVAS".  I still have to explain those ten words to the person planning their company party.

ME: All of those pictures are of me.

THEM: Nooooooo!

ME: Yes, that's me as Dolly Parton, Madonna, Julie Andrews, Judy Garland, all of them.

THEM: Not Tina Turner?

ME: Yes, I impersonate everyone in the picture and Shania Twain as well.

THEM: Who's that?

ME, to the Millennial: That's Liza Minnelli. She won an Oscar, a Grammy, an Emmy, a Tony and a Golden Globe. She's one of the most talented entertainers in history.

ME, to the Baby Boomer: That's Lady Gaga. She's famous in this century.

THEM: It must take a long time for you to change.

ME: Um, I change in seconds, really, just like it says.

Then they ask me how I do it and what happens onstage when I change. 
"My show is like dominoes"
I explain that there's no dead air, there's always something happening onstage. Sometimes I pop behind a low screen while music is playing. I change wigs in front of everyone in 3 seconds, then walk out in a new dress a few seconds later. During some routines, I have volunteers onstage playing instruments while I change. There's always music or talking.
My show is like dominoes. It takes about 5 hours to set up and rehearse. I arrange change screens onstage, style wigs, iron costumes, carefully set things in very specific positions behind curtains, test my microphone, rehearse cues and volumes with the sound technician, confirm my introduction with the Emcee, co-ordinate the lighting, go over the cues again, trouble shoot, braid my long hair so that it fits under the wigs, take an hour on my make-up, hopefully eat, secure my braids around my headset microphone, layer my costumes very precisely and make my way back-stage.
Then, I change in seconds to become a dozen divas.